Add Space With Open Shelving
If you're looking for a way to add some extra storage to your home without taking up too much space, open shelving can be incredibly useful in small spaces. This type of shelving is perfect for small homes or apartments because it makes the most of that limited space.
What is open shelving?
Open shelving is a type of shelving that does not have doors or cabinets, which makes it easy to access everything on the shelves. Open shelving can be used to store dishes, cookware, food items, and just about anything else that will fit. With that said, all you need is a little creativity, you can use open shelving to create a unique and stylish space.
Open shelving can help to break up a space and make it feel larger and airy. It can also help to create a visual separation between different areas of a room. It can also be a great way to display items that you want to keep out in the open,
One of the main advantages of open shelving is that it can make a small space feel larger. This is because there are no solid walls breaking up the room. Additionally, open shelving can also be a great way to showcase your favorite items or show off your collection.
There are also some disadvantages to open shelving. One is that it can be difficult to keep dust and dirt off of your belongings since they're not behind closed doors. Additionally, if you have pets or young children, you'll need to be careful about what you put on shelves since they may be tempted to reach for things or jump up on them and knock things down.
So, is open shelving right for your home? Ultimately, it depends on your personal preference and the needs of your space. If you're looking for a way to make a small space feel larger or want to display your favorite items, open shelving may be a good option for you.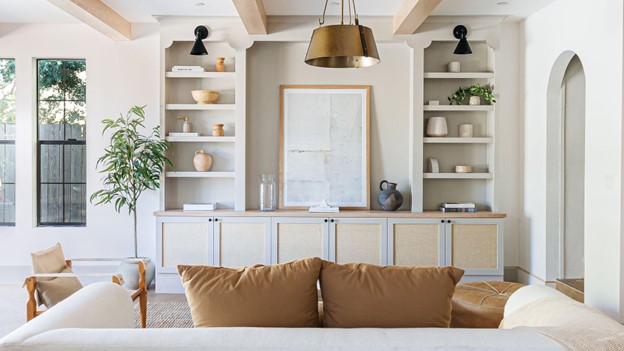 What do I need to think about before installing open shelves?
Are you planning to upgrade your kitchen with open shelving? Here are a few things to consider before making the change.
How much stuff do you really need on display?
If you're like most people, you probably have a lot of stuff that you don't really need to have out in the open. If your goal is to declutter your kitchen, open shelving may not be the best option for you.
How often do you actually use the things on your shelves?
Do you really need to have those everyday items within easy reach? Or would it be better to store them away and only bring them out when you need them?
What is the shelf life of your food?
If you're planning on storing food on open shelves, you'll need to consider how long it will last before it goes bad. Items like canned goods and dried pasta can last for months, but fresh fruits and vegetables will only last a few days.
Here are a few pointers on how to use open shelving in your home:
Use open shelving to display collections or items that you love. This is a great way to personalize your space and make it feel like your own.
Get creative with how you arrange items on your shelves. Consider grouping items by color, texture, or theme to create a visually interesting display.
Use open shelving to store everyday items like dishes, glassware, or cookbooks. This can help to keep your counters clutter-free and make it easy to grab what you need when you're cooking or entertaining.
If you're short on storage space, consider using open shelving in lieu of traditional cabinets or cupboards. Making the most of a tiny space can be accomplished in this way.
So if you're looking for a way to open up your home and give it a fresh new modern look, consider adding some open shelving.
Search CSS Inspection Services
CSS INSPECTION SERVICES ARTICLE CATEGORIES
CSS INSPECTION SERVICES ARTICLE ARCHIVES